When an animal is lucky enough to survive a metal snare trap, it most often goes limp as a result of mutilation. When less fortunate, it agonizes, dying slowly from injury,stress and panic, dehydration or starvation, or from being eaten by predators.Unfortunately, the equatorial forest of Congo's Conkouati-Douli National Park,a protected area covering 5,000 km2, has not been spared the global wildlife scourge of hunting with metal snares.
The simple mechanics of snare traps
Snaring is one of the simplest hunting techniques, where a snare made from a wire cable, such as an old bicycle brake, is used to catch the prey. The setup mainly consists of a noose that is concealed in the foliage, so that it can ensnare the animal as it passes.
Of all trapping methods used by poachers, snares are among the most cruel ones.
Almost all animal species are vulnerable to these traps. From primates to elephants – as long as a neck, a leg or a foot is at risk of coming into contact with these hidden traps, the animal can fall victim.
Above: A metal snare trap hidden among the foliage of the park, and a civet caught in one of these traps.
This technique is now illegal in the Republic of Congo, as well as in most countries in the world, since it is non-selective and causes a lot of suffering to the animals. The Conkouati-Douli National Park is home to some of the world's most endangered mammal species, many of which are on the verge of extinction, such as gorillas, mandrills and forest elephants. Despite this, in May 2023 alone, more than 800 metal snares were dismantled by our foot patrols!
The causes
In some regions of the Congo, including the Conkouati-Douli National Park, the lack of viable economic alternatives makes illegal hunting a source of income or food in many communities. The bushmeat trade, highly prized in the markets and restaurants of major urban centers, is flourishing. Demand for wildlife products, particularly skins and body parts from exotic animals, is also growing(1) . Insufficient awareness of the environmental, health related and legal consequences also contribute to their proliferation.
Below : A chimpanzee with its thumb mutilated by a metal snare in the park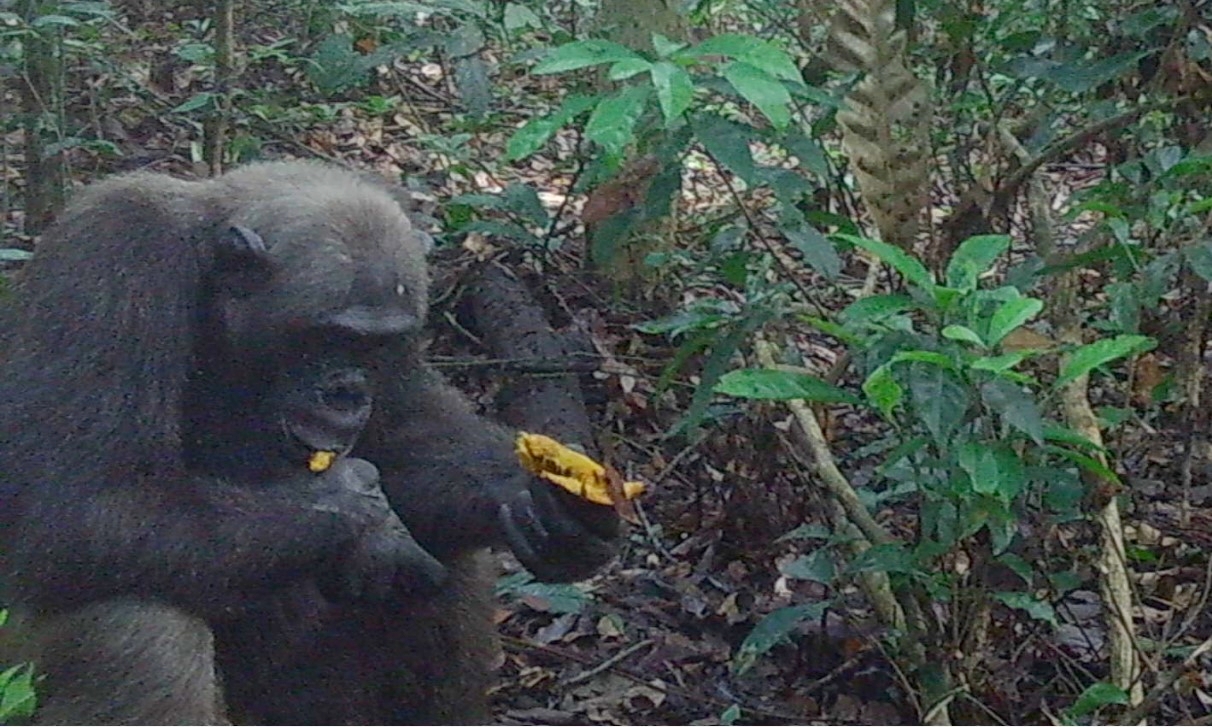 The consequences
The ecological balance of the region is disrupted by this practice. Wildlife plays a key role in pollination and seed dispersal and in maintaining the balance between different species populations(2). Primates feeding on fruit, for example, become a vehicle for the propagation of vegetation. Another consequence is the increased risk of zoonoses for the human species.
How can we solve the problem of metal snaring in the park?
Strengthening law enforcement
To this end, the approximately 30 ecoguards of the park will be joined in June 2023 by another 26, in support of the Congolese authorities, to enforce existing wildlife protection laws. These agents make enormous sacrifices to protect this ecosystem, spending weeks at a time in the equatorial forest, returning home only sporadically to see their families. During their patrols, the protection agents find and destroy traps and intercept poachers. It is an unfair game of hide-and-seek – while the team struggles to dismantle the traps, the poachers rebuild them in other locations. Agents simply can't keep up, as traps are set up faster than they are discovered. This imbalance highlights the need to increase the number of rangers in protected areas, and the urgent need for better trained and better equipped teams to ensure the health of the fragile ecosystem of the park. These measures will increase the level of surveillance through regular patrols as well as increase penalties to deter offenders.
In reality, everytrap removed is a life saved and a species protected.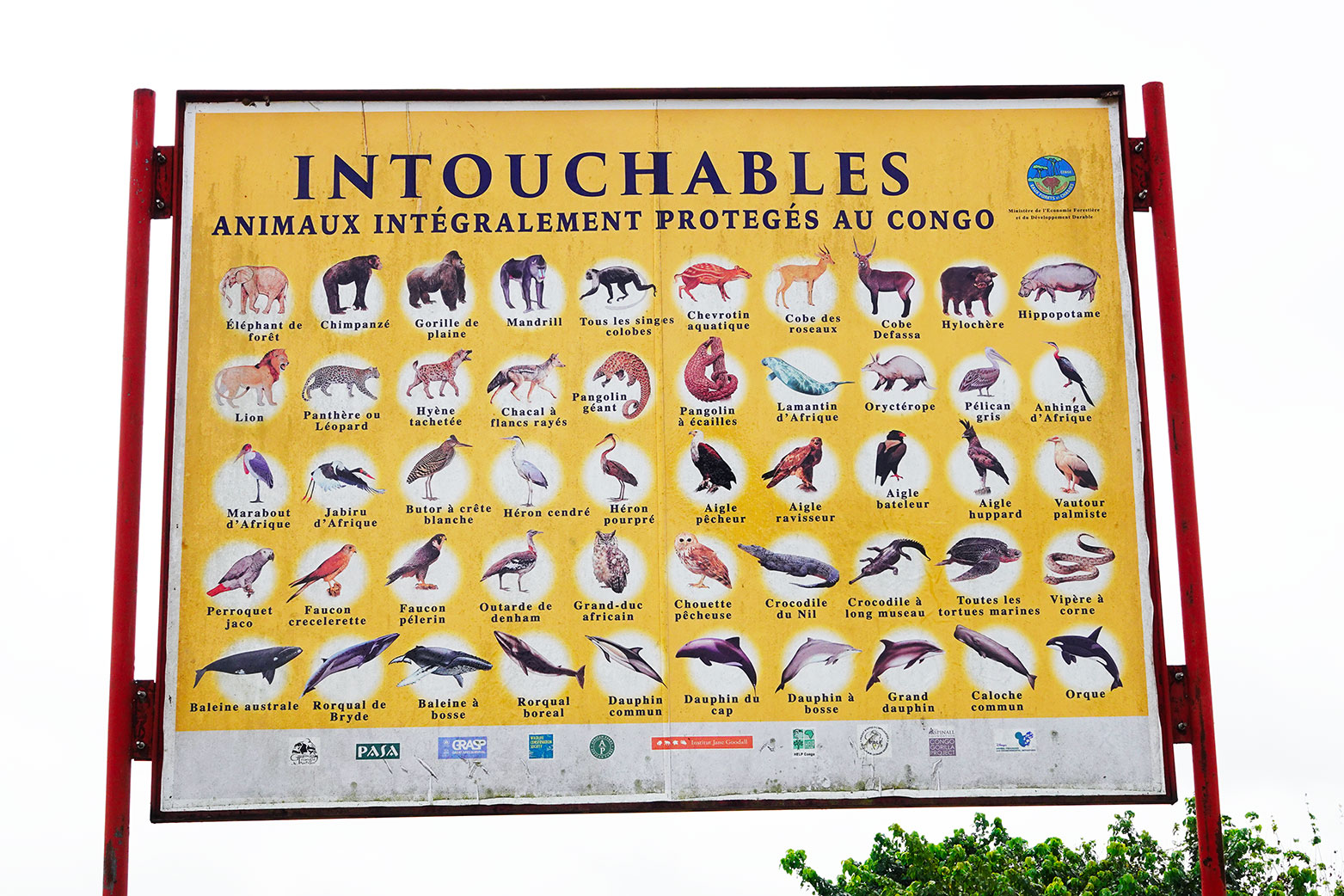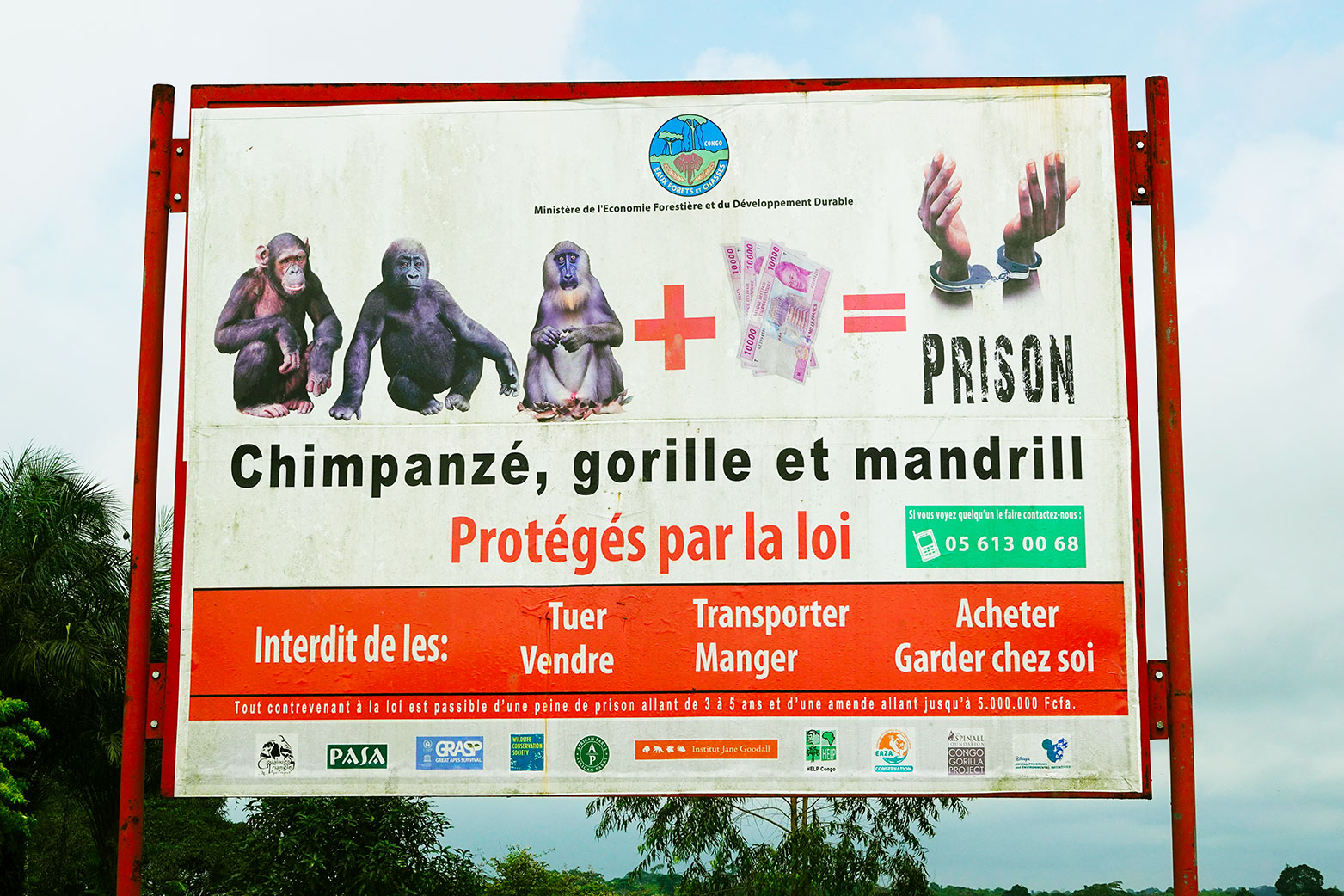 Raising awareness and economic alternatives

In addition to this, sensitization campaigns will be carried out to inform local populations of the harmful consequences of using wire snares. It is essential not only to remind people of wildlife protection laws, but also to support sustainable economic alternatives to reduce dependence on illegal hunting. Several projects are currently being developed with communities in the park, involving activities such as artisanal fishing, market gardening, livestock breeding and ecotourism.
WE TALK TO MODESTE MAKANI, COMMUNITY DEVELOPMENT OFFICER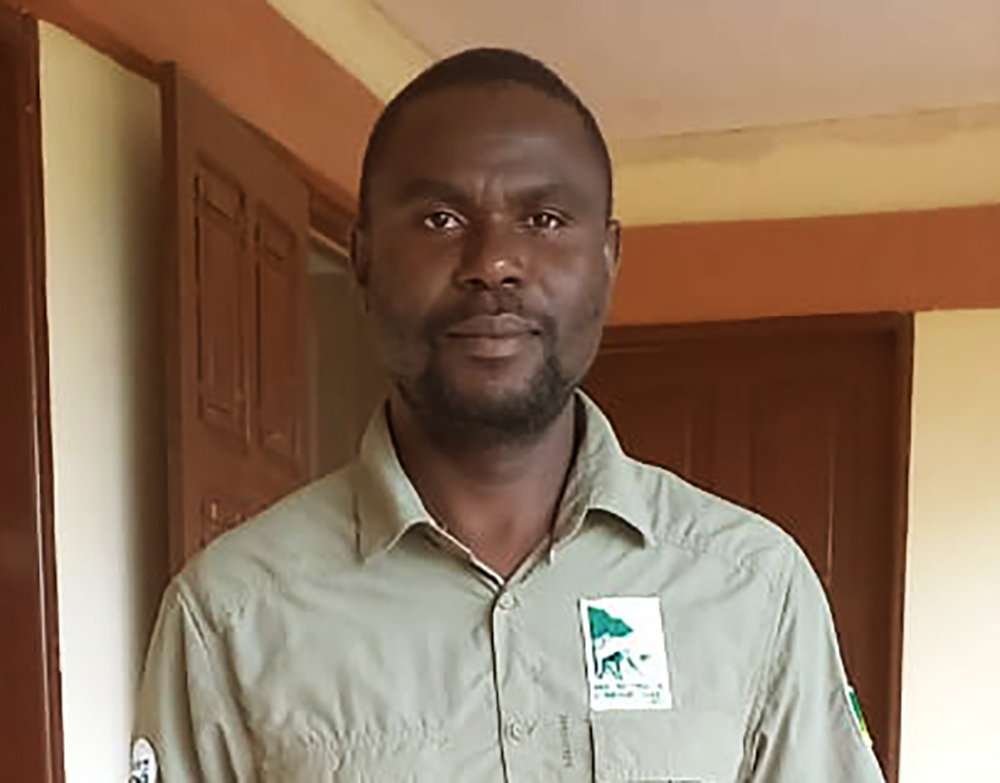 Modeste Makani, recently recruited as the park's community development officer, is well aware of this problem. "It's not something that's specific to Conkouati," he hastens to say, "it's a threat to many parks in Africa.
Is this practice only used by locals for direct consumption, or is it also used for the bushmeat trade in Pointe Noire?
"Clearly, given the seizures made by our agents in the park, and the large number of traps used by each hunter, this technique is also used for the bushmeat trade, which is highlyprized in big cities like Pointe Noire".
What does the Congolese law and the park legislation say about metal snares?
"Article 37 of Law n°37 -2008 on wildlife and protected areas strictly prohibits the use of metal cables as a hunting technique.
Referring to article 32 of the law on wildlife and protected areas in the Republic of Congo, it is stipulated that all hunting techniques that cannot select the species to be captured arealso prohibited".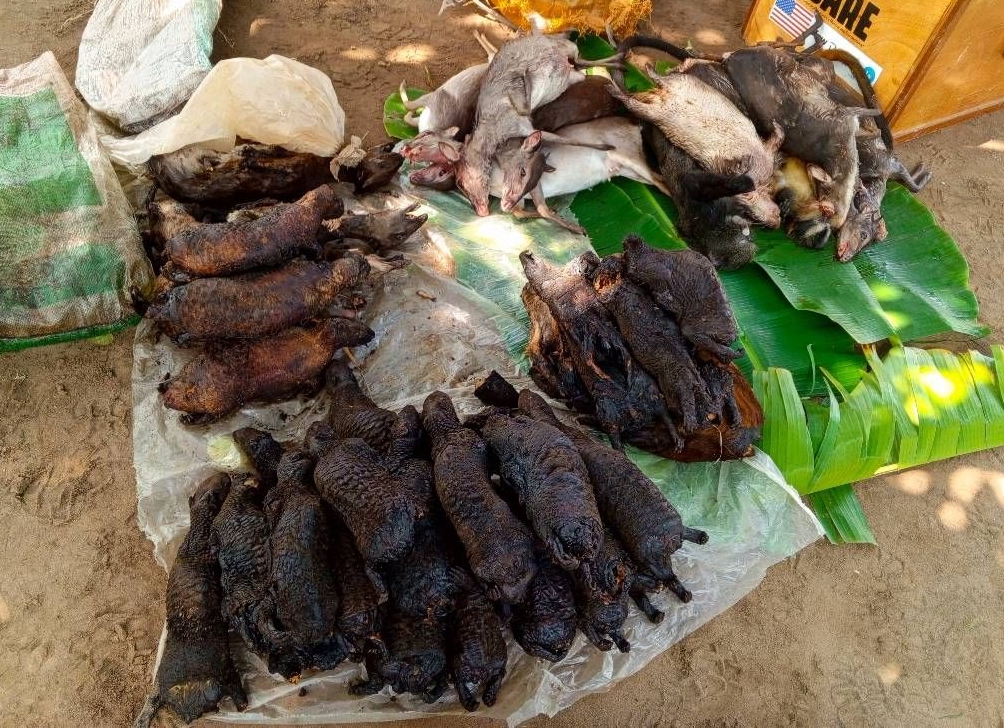 Is anyawareness-raising planned as part of community development?
"We're in the process of drawing up a community sensitization plan. In this plan, hunting management will be prioritized. Awareness-raising will focus not only on wire cable traps, but also on good hunting practices and the consequences of bad practices, with an emphasis on the penalties provided for by article 112 of the law".
(In the park's integral protection zone, hunting is prohibited – offenders are liable to fines and imprisonment – whereas in the eco-development zone, encompassing the villages in the protected area, its inhabitants can exercise their rights of use: small-scale hunting of unprotected species in compliance with sustainable practices, such as hunting periods, acquisition of a hunting permit, selective hunting, use of legal weapons, harvesting quotas, non-deterioration of the ecosystem with polluting techniques, limited to subsistence needs and under no circumstances for commercial purposes).
Only a holistic and coordinated approach will effectively protect the wildlife of the Republic of Congo and preserve this natural heritage for future generations.
This is why the Noé team and its local partners are striving to protect this precious heritage, so that the survival of these species will be not only a possibility, but a certainty.
1 Article "From forest totable: Inside the world's bushmeat problem" (National Geopraphic – ReneEbersole, published May 2023)
2 Article "Snares don'tdiscriminate: A problem for wild cats, both big and small" (Mongabay -Sean Mowbray, published May 5, 2023)